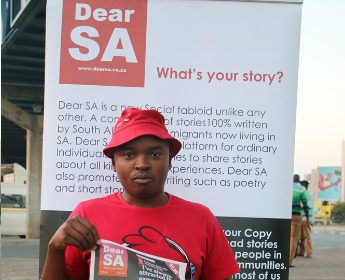 When people encounter painful and unexpected ordeals in their lives, most turn to writing as a coping mechanism. From diarising the trauma to expressing it in poetry, there is increasing evidence to support the notion that journaling/writing has a positive impact on physical well-being.
Dear SA (Dear South Africa) is a community newspaper unlike any other, it is a compilation of stories written by South Africans and all who live in it. Dear SA serves as a tool for ordinary individuals in our communities to share and talk about problems that affect them personally on a daily basis.
Spawning from the concept of the agony aunt section in magazines, instead of writing your story to seek advice from one expert, why not write your story and publish it to the nation and get responses from your fellow countrymen. The idea is that your problem is not unique, someone out there is, or has gone through what you are going through, it may not be in the same way but they can relate. By connecting people and by more people sharing their stories we can raise awareness towards certain problems that continue to bring down our communities.
You could be a rape survivor, a disabled person, an ex-convict, a homosexual person, a former addict, an activist passionate about a cause, a former unemployed citizen turned businessman, or you could just simply be a person that came to a cross-road in life and decided to make a change. Telling your story could potentially benefit someone in your community or the next, who is still going through these ordeals alone without help. Your story can help encourage, motivate or change someone's life for the better.
Such a platform allows people in our communities to continue conversations on the topics that affect us in our personal, families and neighbours lives. On this platform people can express themselves to a listening audience about what it's like to walk in their shoes. The more people are able to share their stories the more we can fight against stigma in our communities. The more people read such stories, more people begin to understand the differences in the people that make our community, and the more people understand this, we can begin to heal the psyche of our people to become more accepting and positive towards each other.
Visit our website at www.dearsa.co.za and also read stories from NGO's and CSI's who are committed to developing our communities for the better. Or alternatively follow us on our social media links.
Do you have a story you would like to share? Get in touch with us at:
Website: www.dearsa.co.za
Facebook: @livedearsa
Twitter: @mydearsa
Whatsapp: 081 268 6868
Email your story to: info@dearsa.co.za