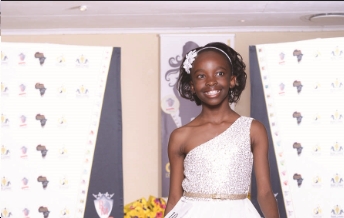 Miss Petite Teen South Africa contestant Otshepeng Diale is a young lady from Cosmo City with big dreams and a dream to help other young women achieve their own dreams she entered the competition, to once again prove that when you put your mind to something, there is nothing you cannot achieve. Her dreams of Modelling began when she won first princess for Miss Pre-teen Gauteng and the debutante achievement award in 2015. At age 11 she joined a talent agency called Fox star, through it she stared in a Top TV and Old Mutual Adverts. The competition will be taking place on 13 October 2018.
Her hope  if she wins this competition is, to have the platform to start her own non-profit organisation where she will be able to help and inspire young girls to follow their dreams.   At just 16 years old she already has so much she wants to achieve '' so many children in my community  are unable to have the same opportunities I have had and I would like to be able to help motivate them to pursue their dreams in my own way '' she said
To vote for Otshepeng sms PT52 to 47081 sms's cost R2, voting closes on 13 October, the public can vote as many times as they want.