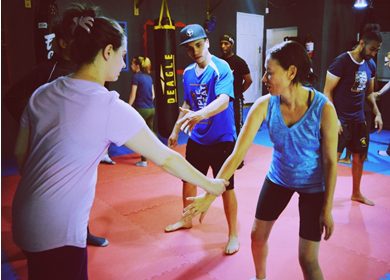 By Teliza van Eeden Vorster
The young Triple Threat Kickboxing Club launched their first free self-defence class for women in Ruimsig on the 1st of February.
Wade Rendall, the owner of the club, has hosted self-defence classes for three years at local gyms, schools and universities. Rendall has always had the idea of running weekly self-defence classes, said Kyle Valentine, one of the Triple Threat members.
The Club's classes are for women and girls older than twelve. "The whole purpose of this is to empower women and to show them that, regardless of the situation, they can defend themselves," said Rendall.
The classes are free because all women, despite their financial backgrounds, should be given the opportunity to defend themselves in a country with high crime rates and other issues, said Rendall. "We thought we'd give back to the community," he said.
Kim Parkes was one of the ladies who attended the class after hearing about it on Facebook. "I felt more in control," said Parkes, referring to one of the self-defence techniques that she practiced during the hour-long session.
Even if you don't participate you can still learn a lot, said Valentine, because someone can just listen and become more aware of what happens in a self-defence situation.
"It was very interesting and informative," said Parkes. "You can see everyone was here to learn something," said Rendall. "You can see they wanted to do this."
The first session focuses on getting the basics right and understanding how important it is to defend oneself. "The thing with self-defence is, it all comes with practice," said Valentine. "It must become second nature."
The basics covered in the first session:
Base
Make your stance wide and bend your knees to be lower to the ground if someone tries to pull you towards them. In this way you will have more balance and strength over your attacker.
Step forward and jam the bottom of your palm upwards into the attacker's nose or chin.
Grab your opponent around the back of the head and jab your knee into his or her stomach or face.
When someone grabs you around the wrist, twist your arm in a circular motion and grab their arm. Then twist their arm behind their back, kick their leg behind the knee and put your other arm around their neck.
After perfecting the basic techniques, attendees will eventually move on to more advanced striking and grappling moves, said Rendall.
The Triple Threat classes occur every Saturday at 10 am on Peter Road. To attend, send an email to triplethreatdojo@gmail.com