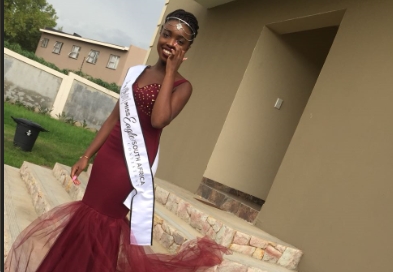 Young ladies who have dreams of becoming models can look up to aspiring Miss Eagle South Africa participant, current semi-finalist Revelation Ndanganeni the Cosmo City beauty is 19 years old and an accounting student at Varsity College in Midrand in the North of Johannesburg.
Ndanganeni has always loved dressing up and believes that modelling will always make that easier and more fun. She loves painting, drawing and was a chess player at school. She volunteered at a Soup kitchen in Midrand called food for life, where they cook and distribute food to homeless people. She is still in the process of looking for an orphanage here in Cosmo City so she can volunteer.
Ndanganeni grew up in Cosmo City and went to Northern Academy College a boarding school in Polokwane in the Limpopo Province. She has always loved the world of modelling and wanted to be a Runway model, however because of her height 5.3ft; she could not, so she went into pageants and started taking her passion seriously after one of her friends encouraged her to enter a pageant called Miss Eagle South Africa (MESA).
Ndanganeni's family and friends are her biggest support structure she said they push and motivate her to do her best in everything that she does. If she wins the competition, Revelation wants to be able to give back to the young ladies of Cosmo City by having pageants in Cosmo to help them gain their confidence so they can enter pageants too.
Miss Eagle South Africa believes in empowering young women and inspiring greatness in them, they believe that she can be an inspiration and able to make a difference in the country.  It is a pageant that gives women the platform to inspire and encourage the youth to spread their wings and achieve their dreams. A pageant that is in its first year of existence will have its crowning on 15 December 2018 at the Sandton Convention Centre.  The pageant has four stages 1) Contestant level 2) Brand Ambassador level 3) Semi- finals level and 4) Finals level.
In South Africa models should be between 5.8ft m to 5.11m female and 5.9ft to 6.2ft for males in height for runway modelling.
To follow Revelation's journey you can find her on social media Facebook and Instagram. On Facebook she is Revelation Ndanganeni Miss Eagle 2018 brand ambassador (soon to be changed) and on Instagram she is Revelation Ndanganeni MESA 2018.