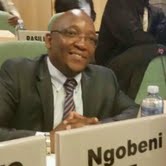 Democratic Alliance now has a PR Councillor in Ward 100, which includes Cosmo City. Resulting from the movement of Councillors to Provincial Legislature and National Assembly due to the May 2014 elections, Cllr Funzi Ngobeni was sworn in as a PR Councillor recently. Cllr Ngobeni has been a resident of Cosmo City for many years and is familiar with the evolution of Ward 100. Like most South Africans, he grew up in the highly politicised environment. "I was involved in politics from a young age, having been active in Congress of South African Students (Cosas) and later with the ANCYL" he said. He later became involved with the congress of the people and "like many other South Africans, I have come to find my true political home in the DA" said Cllr. Ngobeni.
In discussing the profile of a PR councillor, Ngobeni said that a PR councillor is one elected through the party lists. Often PR councillors will be allocated to wards by the party, either to team with the incumbent Ward councillor, or to develop support in an area held by the opposition. "PR councillors are primarily accountable to the party. On the other hand the Ward councillors are elected directly by the residents in a ward and therefore represent the electorate's interests. One of the Ward councillor's important functions is to be the voice of all the people in the Ward and to strive for effective service delivery to them. However, in terms of their specific responsibilities, there is little to differentiate PR and Ward councillors" he explained.
Cllr. Ngobeni said, about his duties, 'Besides fulfilling my party political duties which among others include developing and maintaining party profile in the Ward and strengthening our structures, it's also my duty as a PR Councillor to be for and with the community - attending conscientiously to voter queries and community representation. This include
*Being accessible to voters in person, by telephone or email
* Providing accurate and timely feedback to queries and representation
* Actively progressing issues by individuals and groups
* Attending community meetings such as resident associations, community police
forums (CPF), schools, clinics, ward forums, religious bodies, sporting bodies and
action groups
"I am committed to the progressive well being of Ward 100 and its residents. Our Ward, particularly Cosmo City and Itsoseng are a growing community and this growth seems to be coming with all sorts of challenges. Issues such as running sewage spills, safety and security, by-law enforcement, youth development, local enterpreneurship are some of the immediate issues that I'll be pursuing with the Ward Councillor and the Departments of the City of Johannesburg" he said.
"It is my belief that local government must work for the people and we're here to ensure that that objective is accelerated" he concluded.
PR Cllr Funzi Ngobeni can be contacted on cell: 072 366 8404 email: funzela@gmail.com