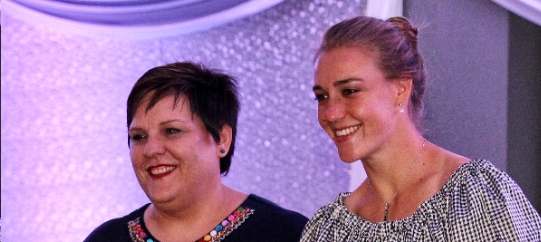 Joburg Judo Awards 2018
Joburg Judo's premier annual awards gala evening took place at Mount Usambara on Saturday 27th October 2018.  It was a fantastic celebration of everything Judo!  300 guests from nine clubs across the Johannesburg district honored players aged eight and up for their achievements locally, nationally and internationally in both Judo and Kata disciplines.
The annual awards dinner is an important event on the Joburg Judo calendar, giving the association the opportunity to recognise and celebrate the club volunteers, coaches, referees, officials and athletes who have achieved at top level over the last 12 months.
Says Paul Nothnagel, Chairman of Joburg Judo,  "We received a record number of nominations for the awards which demonstrates the outstanding dedication and commitment of the volunteers involved in the sport of judo across Johannesburg. The awards recognise a select few who have made exceptional achievements this year, but also our volunteers across the province who contribute to making the sport a success in SA, and to every one of them we are thankful".
Says Paul Nothnagel, "A huge thank you to Helen Jones, Lesley Shaw, Craig Billson, Oscar Knoester, Basil Smith, Sonia Billson, Vaughn Heidmann, Guy Imbert, Richard Overbeek, Josie Knoester, Danie Bruwer, Ina Botes, Brigitte Hupkes and Herman Overbeek for their commitment to Judo and being the core role players in this expanding sport.  To the parents, volunteers and players for making all this possible. 2018 was another fantastic year and Joburg Judo has never been so strong both in terms of its membership and the quality of its players".
The event was an opportunity to recognise not only incredible performances on the mat from our judoka, but also the rigorous administration that goes into making it all happen throughout the year.
In many cases the very people who are applauded for the former are also responsible for the latter. Unsurprisingly, this has fostered a culture of unwavering participation and solid teamwork within the Joburg Judo community.
The top lady judoka for 2018 went to Unelle Snyman who has her sights set on the Tokyo 2020 Olympic Games.  She is currently participating on the world circuit in her quest for points and medals required to qualify.  The accolade comes after bringing home gold, silver and bronze from a host of national and international competitions.
Honors for top male performer went to David Stockigt who has been active in Judo for 14 years.  He participated in the Africa Junior Championship which was held earlier this year in Burundi.  Here he placed 5th and took gold at the SA Open Championships.
Queen Sehlapelo stole the show when she was announced JBJ development player of the year.  She achieved a bronze medal at the SA Open and gold at the recent SA Schools event.  She was however not only recognized for her outstanding athletic ability on the mat but also for her charisma and sportsmanship amongst her fellow judoka.
An emotional Sehlapelo was overjoyed with her achievements and tributed her success to her teammates, Nooitgedacht Primary School, her Sensei Richard Overbeek and the support she receives from Joburg Judo which enables her to participate in the local and national events.
Joburg Judo currently sponsors 40 children aged 9 – 14 to attend Judo classes at Nooitgedacht Primary School as part of their development programme under the leadership of Sensei Richard Overbeek.
Best Players for 2018 were awarded as follows:
9 years           Kendra De Beer and James Hulett
10 years         Klara Vahrmeijer and Alessandro Losco
11 years         Jessica Nothnagel and Janu Malherbe
12 years         Tylah Van Der Walt and Simphiwe Zindela
Group 3          Samantha Nothnagel and CJ Schutte & Dylan Martin
Group 4          Faith Sookane and JP van Staden
Group 5          Skye Knoester and David Stockigt
Group 6          Skye Knoester and Dalitso Mukumbe
Masters          Tammy Van Der Walt and Rudi Rademeyer
Kata awards for 2018
Group 1          Jayden and Evan Thiel
Group 2          Llewellyn Jones and Aston Billson
Group 3          Samantha Nothnagel and Billieleigh Billson
The next highlight on the JBJ calendar is the Judo Commonwealth Championships taking place from the 4th to the 11th of November 2018 at Sawai ManSingh Indoor Stadium, Japiur, Rajasthan, India where our local judoka Jordan Cockman from Tatami and Dylan Martin from Kano will represent South Africa.
It will be 8 days of calculation, strategy and giving the best of themselves to climb the world judo rankings.  The Sawai ManSingh Indoor Stadium and its 2000 spectator capacity will vibrate to the rhythm of ippons, wazaris and crowd cheers as athletes grapple for success.
The Commonwealth Championships will showcase performances from hundreds of competitors from 53 countries and will illustrate the global dimension of this highly competitive and culturally diverse sport - modern judo.
For further information please contact joburgjudo@gmail.com
Clubs from Joburg Judo who had top performers for 2018.
Tatami, Bryanston: Hajime, Randburg: Kano, Northcliff:  AJK, Weltevredenpark: Doriyoku, Helderkruin: Nippon, Linden: Jigo Tai, Hartbeespoort: Joburg Judo Development, Nooitgedacht:  Chikara, Sandton: Fudoshin, Randburg