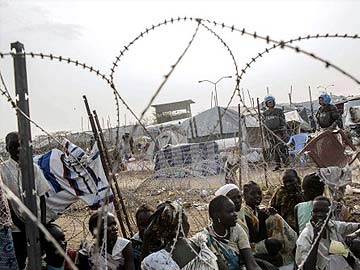 South African NGO feeding 694,000 beneficiaries in South Sudan
It is estimated that 50,000 children in South Sudan could die from starvation. The United Nations (UN) Security Council last week described the escalating humanitarian crisis in South Sudan as "catastrophic" and that "food insecurity in South Sudan is now the worst in the world." (July 25, 2014)
Together with the UN's World Food Programme (WFP), Joint Aid Management (JAM) is currently storing and distributing 38, 000 tons of food destined to feed 694,000 people facing hunger and starvation. JAM, a South African founded, international NGO, has been based in what is now South Sudan since 2001.
The number of people needing emergency food relief is likely to rise, as the effect of the six-month conflict becomes more pronounced and food stocks diminish. The country's torrential rainy season (May – November) will further exacerbate and hamper relief efforts as large parts of the country are cut off and only reachable by airdrop. Experts agree that the multiple factors will combine to create a famine unseen on the continent for decades. The UN and the United Nations Children's Fund (UNICEF) estimate that 3.9 million people will be in desperate need of food aid this year.
The civil conflict that began in December 2013 quickly spread to over seven states and forced an estimated 1.5 million people to flee their homes in search of safety. Many of these people are living in Internally Displaced People (IDP) camps, the largest of which is Mingkaman in Lakes State. JAM, with partners such as OXFAM, is currently feeding 120,000 people living in Mingkaman. Many of the IDPs living in the camps speak of trekking for days and weeks through the bush eating leaves, roots and flowers to survive.
Having brought relief and development in South Sudan since 2001, JAM is aware of the challenges faced and the needs of the people living there. The current situation necessitates a focus on emergency relief by the NGO community to save lives. JAM, in cooperation with the WFP, implements several humanitarian and development programmes needed to help rebuild and develop the country in the states of Jonglei, Lakes, Warrap and Northern Bahr el Ghazal. The programmes JAM has implemented in these states are Food for Education (FFE), General Food Distribution (GFD), Food For Assets (FFA), Blanket Supplementary Feeding (BSF), and Emergency Operations (EMOP). FFA and FFE are vital programmes to ensure that the children of the country continue to be educated and FFA encourages the construction of assets needed for development such as new roads, water troughs and new vegetable gardens.
JAM is appealing to the South African and international community to help further expand our capacity to deliver more lifesaving nutritional relief to those affected by the current crisis in South Sudan - the world's youngest nation, having recently celebrated its third birthday on July 7.