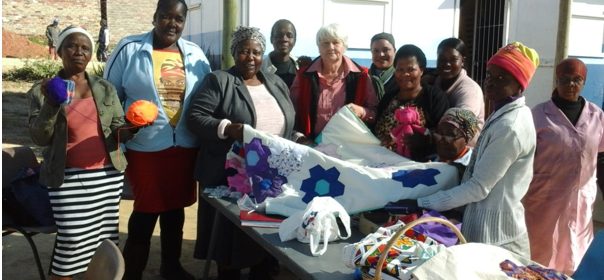 The Sizanani team showcasing some of the work they have done in the past weeks
Members of Methodist church at Cosmo city Ext 6 are working hard to fulfil their dreams. Last year at around February they decided to come with an idea to keep themselves busy by starting "The Sizanani (Help each other)" project which is run by a few women who have passion for hand craft work as part of their daily routine.  Later after months other dedicated members from the church joined the project after realising how designing is so important. The name of the project was chosen by, ordinary church members who gave up their time to assist those in need. The Sizanani Project is a non-profit organization on a mission to help, eliminate the burden of those who are unemployed to at least make something and sell to the community to help have an income.
In this project women are trained to make, blankets, hats and other countless products that are done by wool. One of the members who wanted to remain anonymous stated that "they had experienced some challenges with most of the members joined, because they were desperate and they needed money so fast, this resulted to them lacking patience with regards to the development of the organisation and they left".
In order for them as women to prosper, they said they need donations. One member from the team said "as a team we would accept any form of gift, be it wools crotch needles to be delivered at their church during the week on Tuesday at 10 am up until 12pm". They added that anyone who wants to join their team from the community is welcomed and that they are no educational standards for one who needs to participate in the projects. In future they are planning to adapt students who are interested in hand craft designing to teach them.
"As Sizanani Project we cannot wait for jobs to return or the economy to improve. We only strive in helping each other to beat unemployment".