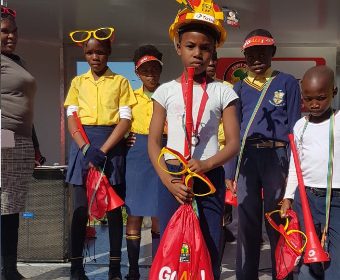 Africa Cup Of Nations (AFCON) games are looming large, and Total South Africa is partnering with 32 schools across the country, to offer tickets to lucky football-talented primary pupils.
Two Zandspruit Primary students have been selected to be part of a lucky draw to win tickets to attend one of the Bafana Bafana Games in Egypt.
According to Total SA's Bran and Public Relations manager Nadia Vosloo, only two talented students (a boy and a girl) are selected to represent their school and stand a chance to win AFCON tickets.
"Total tries to work within communities that are close to our service stations," she said. "we always do our best to give back to the communities in which we operate in. In this case of Zandspruit, our Total Zandspruit dealer has been actively involved in the community for a number of years."
She added that most of the disadvantaged communities do not have the facilities and are not always exposed to sport events.
"The learners really enjoyed our visit to their school," Vosloo added. They were joyful and passionate to participate in the Total AFCON Schools soccer games. This shows that these interactions are so important not only to expose the learners to the physical activity but to also foster a love of sport."
At Total South Africa, Vosloo said, they have a lot of Corporate Social Investment projects that focuses on Road Safety, Education, Heritage, Sustainable Development and Environment.
Total operates in 43 countries across the African continent, being the number one retail network with more than 4, 600 service stations. The Total Group is a proud sponsor of the Confederation of African Football (CAF) and the title sponsor for the Total Africa Cup of Nations 2019 in Egypt, which will kick-off Friday, 21 June.
Total signed a partnership agreement with CAF in 2016, becoming the official title sponsor of African football for eight years. Total became the title sponsor of 10 competitions — three inter-club and seven nationals. The partnership started in 2017 in Gabon with the prestigious Africa Cup of Nations, which was renamed the Total Africa Cup of Nations.