City hosts waste awareness campaign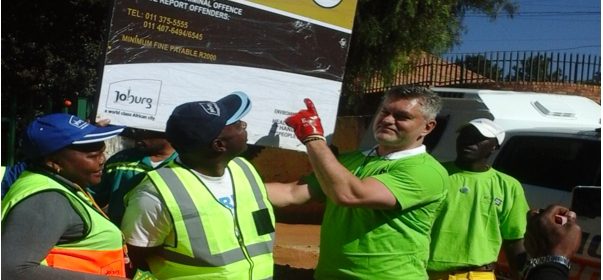 MMC for Environmental and Infrastructure Development Services, Cllr Nico de Jager together with the Managing Director of Pikitup, Mr Lungile Dhlamini, held a waste awareness campaign and public meeting at Emthonjeni Community Centre in Zandspruit on the 14th of June as part of Pikitup's Community Upliftment Programme (CUP). Zandspruit was chosen among many Informal Settlements, which has been proven that "it has almost 24 900 housing units". Because of its high population in the past it has been challenged by a number of socio-economic issues, one of them being illegal dumping in the area.
The aim of the waste awareness campaign was to encourage residents and illegal traders to actively participate in recycling, to reduce waste products that go to landfill sites. De Jager said that he did not believe the level of cleanliness on this informal settlement, because there are other suburbs in the city that have nothing compared to what he sees at Zandspruit and he urged the residents to form a relationship with waste as a form of maintaining their lifestyle in keeping the environment clean. "this is not my suburb it is a community suburb,which needs partnerships with pikitup's and city power to work together in ensuring that they deliver on the promises that they made a couple of years ago to keep the area clean".
Lungile Dlamini spoke about ways of using waste materials and sustaining cleanness, as well as recycling as a business. "A clean environment is started by waste removal services whereby, bins are collected not left overflowing and solid waste is not dumped illegally, which will benefit the city in creating a productive economy by flourishing business hubs for recycling". He said that to settle in, in the next five years he would like "to achieve a good relationship with waste, but not only with the relationship of leadership from Pikitup's but with the leadership of the community, by all the citizens and stakeholders within the city of Johannesburg and progress from campaign programs and bi-ins".
On the 13th of June a day before this cleaning campaign City parks and Pikitup's workers in Cosmo City spent the whole day at the suburb cleaning up on Granada Street at Ext 4 and Uganda Street in Ext 6 as they have been known as the dirtiest streets in this suburb.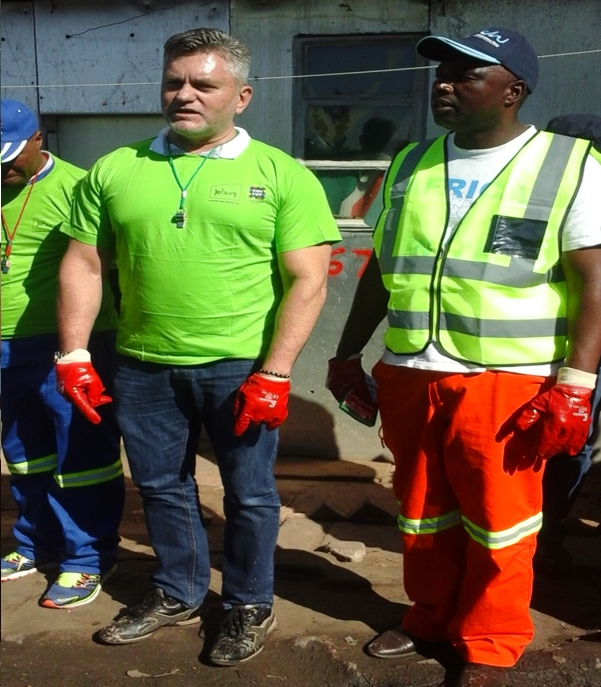 Victor Mafinya, Ward 114 councillor and Nico de Jager, MMC for Environment and Infrastructure Development MMC, taking a walk some polluted streets in Zandspruit.