Correctional Services Youth Imbizo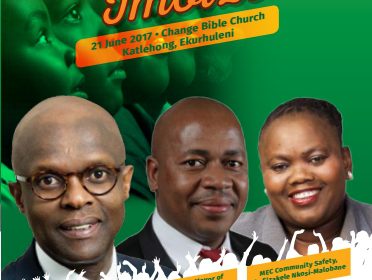 In the context of the 41st Anniversary of the Soweto youth uprisings, the Department of Correctional Services has identified the importance of encouraging young people to refrain from criminality and substance abuse as a key building block towards the creation of a safe and secure South Africa.  The promotion of anti-crime awareness within the youth constituency, both inside prisons and within communities, forms part of our on going efforts to promote security and comfort. More than  7000 of South Africa's prisoner population is constituted of youth under the age of 21 years.
Community participation in the social reintegration of parolees and ex-inmates upon their release back into their families and respective communities remains  a key pillar in our programs to reduce re-offending. In Ekurhuleni, the DCS Correctional Supervision is responsible for a total 2 688 parolees and 630 probationers who still serve their sentences from outside our facilities.
It is in line with the above,  the office of the Deputy Minister of Justice and Correctional Services, Thabang Makwetla, working in collaboration with Gauteng MEC for community safety, Sizakele Nkosi-Malobane and the Executive Mayor of Ekurhuleni, Cllr Mzwandile Masina will be embarking on an Imbizo, targeting mainly youth and the broader community of Kathorus. The overall aim of the campaign is the mobilization of society to rise and contribute meaningfully to the creation of crime free zones.
On the day, more than 200 TVET youth will watch a stage theatre/drama to be performed by inmates from the Johannesburg Correctional Facility ('Sun City') and receive a motivational talk from well known ex-inmate Themba Lukhele, popularly know as 'Skeem GP'. Thereafter, the entourage will proceed for a walkabout to distribute anti-crime literature at Natalspruit Hospital Precinct (Ward 52). The final activity will be a community/ public Imbizo to be held at Change Bible Church where more than 2 000 community members are expected to gather and dialogue with public representatives.
The media is invited as follows:
Date: Wednesday, 21 June 2017
Time: 9am
Venue: Usizo TVET College, Katlehong
Walk-about
Venue: Natalspruit Hospital Precinct (Ward 52)
Time: 11h30
Community/ public Imbizo
Venue: Change Bible Church, Katlehong
Time: 14h30