Eco Culture's call to minimize "Air Pollution"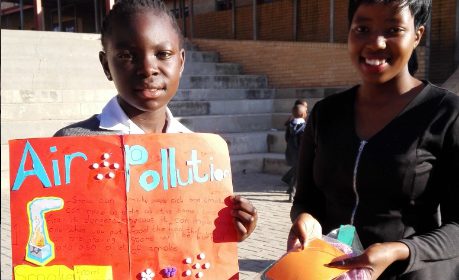 Eco Culture Sechaba Foundation went beyond celebrating World Environment Day, and took the whole month of June holding awareness campaigns about air pollution.
Cosmo Primary 1, Cosmo West Primary, Cosmo Junior Primary and Tirisano Mogo Primary participated in Eco Culture's program to minimize air pollution.
The awareness campaigns included short assembly presentations and competition where the learners were asked to establish posters and poems illustrating air pollution causes, effects and solutions.
"Air pollution claims one out of nine lives and threatens the future of our climate," said the Eco Culture representative.
"There are two types of air pollution; we have outdoor air pollution caused by emissions from power generations, transport, industrial furnace, and dust and sand storms. About 90 to 193 countries practices do not have vehicle emission standards and 86% of countries practice burning of agricultural and municipal waste. Indoor air pollution caused by cooking stoves, lighting and heating, more than three billion people use solid fuels and open fires for cooking and heating, with that said Eco culture focuses on making the young students aware of such problems through our effective educational campaigns."
World Environment day is an annual event celebrated in June. The 2019 World Environment day was celebrated from the 5th of June 2019.
Eco culture's two beneficiary schools Cosmo Primary 1 and West primary have since established environmental committees called Enviro Buddies. The Enviro Buddies had a drama play during the campaign.