Enough is Enough!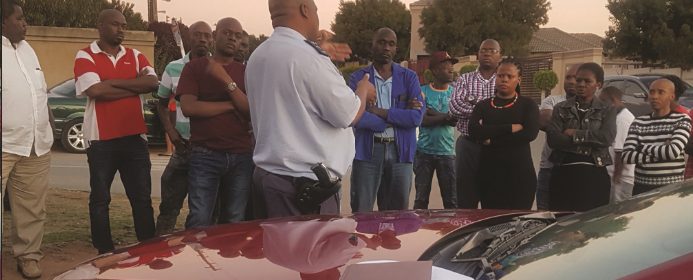 Staff Reporter
Residents of extension 0 in Cosmo City have had enough, Residents held a public meeting on 6 May 2018 at the Park on corner Mississippi and Georgia Avenues. The meeting was held to address the levels of crime in the area and was attended by the Councillor of ward 100, Mapula Mosito and Captain Gumede from SAPS in Honeydew.
Residence of the extension had issues that they were concerned about and told Councillor Mosito and Captain Gumede,  issues such as house break-ins which residents say happen often; Car thefts, cars are stolen and later found stripped; Murder the recent murder of a security guard on Kentucky crescent; drugs which children are found smoking in the park around young children and a drug den was discovered by police in extension 5; Park safety where children are often left alone without supervision and Backrooms which people build to not just better their lives but they become greedy.
Captain Gumede from Honeydew Police Station spoke to the residents about the causes of crime and what they need to do to prevent it from happening in their area, he warned them that crime is a serious issue and when it is discussed, the causes should also be a part of the discussion. He mentioned '' If criminals are not afraid of the police they should be afraid of the community''. He further emphasised that 'if people do not know the people they rent rooms to or those who live in their community then residents are in danger from criminals'.
The decision made was that the way forward was that the community of extension 0 must form a residence association with representatives from each street and together will be the community CPF which will keep track of the community crime issues and find ways to deal with them working together with the police.
To report a crime in Cosmo City please call the Sector Commander, Captain Mahlahlane on 071 675 7106.