Golden drifters moving up the football ladder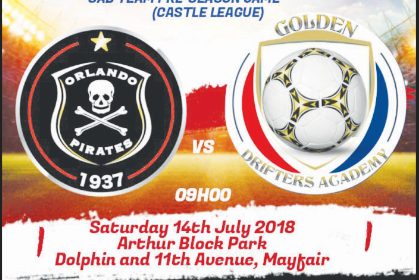 Golden Drifters Academy has bought the status of a professional team in the South African Breweries (SAB) to become the first football club from the North of Johannesburg to participate in South Africa's third division league.
Through the support we got from local businesses the club has managed to acquire an SAB status to play in the professional league.
The Golden Drifters Academy president, Proud Shoko, said the dream of having a professional team from the north of Johannesburg had come true.
"Now that we will be participating in a professional league, our aim is to do our best to win and get promoted to the second division which is the ABC Motsepe league," he said. "We are also targeting to get our players promoted to the bigger clubs because they are now professionals. We are also aiming to sustain our position in the league so that we do not get relegated."
Shoko added that they are appealing to the corporate community to chip in and support the underground talent.
"Our request to the community and local businesses is that we need support
"It is always a challenge to run a team in the SAB League because it is always costly," he said. "We have players from Cosmo City and Zandspruit, and at the moment we do not have our own transport to ferry them to and from the matches. We also need help with other administration fees such as match fees as well as for equipment. We welcome anyone who wants to work with us. We are also looking for players who want this opportunity to play in the SAB League this season."
The SAB League will start on 4 August 2018 until May 2019, and Golden Drifters will participate in the Nedbank Cup tournament.
Golden Drifters Academy was established in 2011 in Cosmo City's extension 7 by Proud Shoko. The club is mainly focusing on the development ages from under 11 to under 17 and
participated in the Cosmo City League from 2014 to 2016. While playing in Cosmo City League, the club's under15 won the league and a league cup in 2015. In 2016, the under 17 won the league.
In 2017, when Golden Drifters started participating in the Zandspruit League, the under 17 won the league and went to participate in the SAFA Junior Championship at regional level. . In 2017, Golden Drifters Academy established its first ever senior team which was playing the Promotional League in Mogale City Local Football Association. This was the first ever senior team of Golden Drifters with the aim to promote players to professional football.
People who are willing to work with Golden Drifters can visit the offices at 174 Marina Drive Zandspruit (Rea Leboha crèche). They can also contact the Academy President on 0732487052 or email to goldendriftersfc@gmail.com.