Keeping Up With The Xhosaz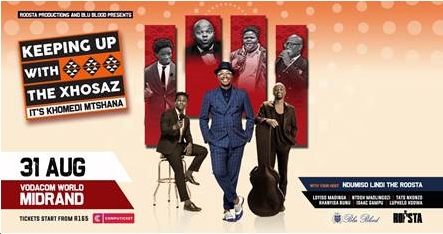 Featuring: Ndumiso Lindi (host), Tats Nkonzo, Loyiso Madinga, Ntosh Madlingozi, Khanyisa Bunu, Isaac Gampu and Luphelo Kodwa
Xhosa People this; Xhosa people that; Xhosa people be like... clearly this is one tribe that has become the Kardashians of all Southern tribes.
Comedian Ndumiso 'The Roosta' Lindi brings together Xhosanostra's funniest comedians under one roof at Vodaworld in Midrand for Keeping Up With the Xhosaz on Saturday, 31st of August.
From the long bus ride to the City of Gold packed with hopes and a big dream – and not forgetting "umphako" (skaftin - lunchbox) - this will be a showcase of genuine homegrown comedy with Xhosa's funniest talents including Tats Nkonzo, Loyiso Madinga, Ntosh Madlingozi, Khanyisa Bunu, Isaac Gampu and Luphelo Kodwa; Ndumiso Lindi as host.
"We are a diverse country with different cultural backgrounds. Experiencing an art form in your mother tongue is something that should be normalised. Comedy has come a long way, audiences now want to hear their stories delivered in their own languages. Representation is key, diversity should be celebrated in all its forms," comments Ndumiso about why he put together this show.
Adding: "The comedians we've chosen are a true reflection of where we all come from, they each offer different styles of comedy and came from far to make a mark in the city of Gold."
The show will be performed in a mix of Xhosa and English. Tickets are available from R165 per person from Computicket online or retail outlets. The show is rated PG16 and starts at 20h00.
Halala! It's Khomedi Mtshana! Proudly brought to you by Roosta and Blu Blood.
---ENDS

About the comedians:
Ndumiso 'The Roosta' Lindi, comedy's modern traditionalist and the gentleman of South African comedy, effortlessly blends new-age style with old-school traditions. His deep voice, soul-warming smile, booming laughter, original content and seamless delivery makes for a comedy act that is outstanding and soulfully South African.
Tats Nkonzo. Comedian…with a guitar (his jokes – they come with strings attached…). Tats manages to fuse comedy and music to exhilarating effect. With his arsenal of humour, intellect and a guitar, he jokes, challenges and entertains like very few can.
From humble beginnings to being the first international correspondent for the Daily Show with Trevor Noah, Loyiso Madinga has quickly risen to being a certified international comic. He may be small in stature but he is definitely not short on jokes.
Ntosh Madlingozi may hold a BCom in Marketing and diploma in PC Engineering but it's the stage where he finds his heart. His fresh brand of in-your-face, laissez-faire humour has found favour at venues and comedy festivals around the country.
Teacher-turned-comedian/actress, Khanyisa Bunu is a fan favourite. She was the first woman to win the audience choice award at the Comics' Choice Awards and has also made her mark on SA TV with roles in Scandal! and Ses'Top La.
Isaac Gampu is a multi-lingual favourite. Comedy comes naturally to this comedian, his comedy game is different because of the international languages he incorporates in his sets.
Known for his deep rural sets, Luphelo Kodwa delivers a strong performance with his insights on life and having to experience township and urban life experiences.