Amanda Pakade elected as Mind Sport South Africa MSSA President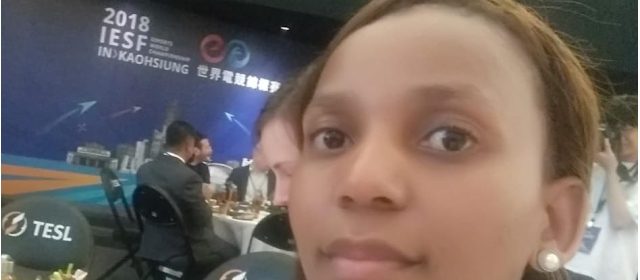 Cosmo City's own athlete Amanda Pakade is now the president of the Mind Sport South Africa (MSSA) and she aims to change a lot of things in the organisation and throughout the country.
MSSA is a nonprofit association and is an affiliate of the International eSports Federation, Federation de Jeau du Mondiale, and the International Wargames Federation. Due to its membership of such international bodies, the MSSA is the sole authority for the games that it caters for in terms of the Sport and Recreation Act, number 110 of 1998 (as amended).
MSSA is responsible for the good governance and promotion of historical figure games (also known as war-games), Board games (such as Diplomacy, Checkers, Draughts, Morabaraba Sport Stacking etc), Card Gaming, Robotics, and eSports (whether they are played on Cell phones, PSPs or Personal Computers)
Amanda Pakade said she is set to make a difference in the world of Mind Sport.
"To be honest, let me say I am happy and humbled to be the MSSA president," she said. "on the other side I am very nervous because I feel like there is a lot of work to be done in this country in order to equip Mind Sport."
MSSA has been existence for a long time, Pakade said, but its games are still not taken seriously. She said she personally feels that mind sport has been ignored by our government and other stakeholders.
"I think people need to understand that a lot of mind sport games should be taken seriously and controlled," she added. "In some cases, children play video games for more than 4 hours, which tends to affect them in a bad way. It is unhealthy but it is happening in our country so we need to get rid of that as MSSA. We want children to play in a safe, controlled environment."
Even with active sport, Pakade added, individuals need mental strength to perform well.
Having represented MSSA at the site inspection for IESF'S 10th World Championships, attended IESF's 11th Ordinary General Meeting in Kaohsuing, and overseen changes to MSSA's constitution and regulations Pakade proved that she was a hard-worker as well as a formidable committee member who has the vision and ability to lead MSSA "Not a single person stood against Amanda for the position of MSSA President," said MSSA general secretary Colin Webster. "Even though MSSA's Constitution allows for members to vote against nominations, every member that voted cast their ballot in favor of her."
With the will of the membership behind her, Pakade has begun her three year term and is determined to effect greater changes that will benefit all athletes.
MMSA Committee members: President - Amanda Pakade; Vice - President - Johan van Breda; Executive Officers - Anabela Joubert, Jason Batzofin, and Leonard Loftus; General Secretary – Colin Webster; Women's Desk – Blair Hamberger; Board Gaming – Joseph Matlhong; Card Gaming – Paula Loftus; Computer Gaming – Marisa van der Westerhuizen; Wargaming – Terence Allwright; National Schools Director – vacant; Legal Advisor – Carl Holliday; Disabled Gamer's Representative – TwaneTollemache; Player's Representative – AmonéBekker