Sin-Gwen Models grace Cosmo City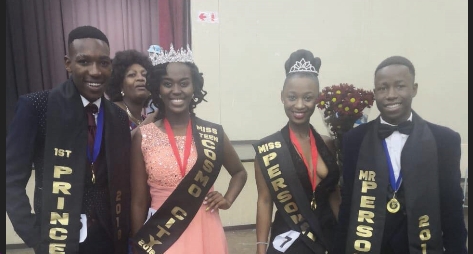 Glitz and glamour prevailed at the Sin-Gwen Models' Mr. and Miss Teen pageant held at Cosmo City's Multipurpose Centre on Saturday October 6 2018.
The free-entrance event attracted scores of teenagers from the Cosmo City Community. Incredible performances by local artistes such as CiarDiko, Scima, B Reezy, Moses The Spoken, Ceejay, Lekgowa da DJ  and many more gave the event an electrifying atmosphere and kept the audience captivated and celebrating.
It was down to the wire as the judges, facing a peculiar case of splitting hairs, narrowed their selection from 17 contestants to 8 finalists. However, the night clearly belonged to Masana Mathye and Naledi Luyanda Methula who were crowned the King and Queen respectively.  Other winners were as follows: Bongani Mthethwa (1st Prince), Ayanda Sandile Sibanda (1st Princess), Morena Ernest Lefeea (2nd Prince), Angela Nmanku Moseki (2nd Princess), Bafana Innocent Dewa (Mr Personality), TshepangMoketle (Miss Personality). Brooklyn Driving School awarded the King and Queen an opportunity to do learners licences. Moove Gym also offered the King and Queen three months membership. Sin-Gwen Models awarded medals to all the models.
"We are taking the youth away from negative activities which result to teenage pregnancies," said Sindi Dambuza, the co-founder of Sin-Gwen Models. "Our aim is to uplift the youth and showcase their talents at an early stage. We advise them to focus on their studies and continue studying after high school. Modeling is important because it enables people discover and develop their leadership qualities."
Dambuza said they appreciate the support from the community and surrounding areas, who filled Multipurpose to its maximum capacity.
"We aim to get more stakeholders involved in our events as we are not only focusing on Cosmo City but other communities like Zandspruit and Diepsloot," she said.
Dambuzo also thanked the ward councilor Mapula Mosito for Multipurpose venue and the following for making the event a success. MCs:  Tumelo Dopex, Tebogo "Queen of the north and Tumelo Sibeko. Judges: Skhumbuzo Ndlovu, Eve Segone, Audrey Chabalala and Mastermind;  Sponsors: Nufsed Entertainment, Moove Gym, Malebo Salon, Brooklyn Driving School, Antiqua Lounge and Visionary Print Solutions; Photographer: Cyril;  Makeup artists: Ravuka and Yonela Poto.