The commemoration of a hero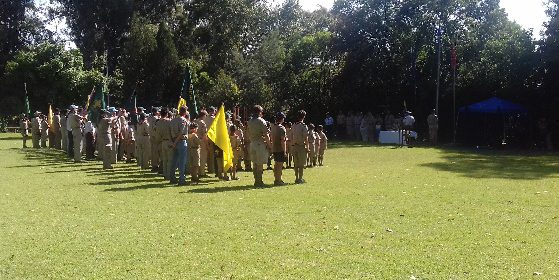 Scout members gathered at the scouts' grounds in Florida on the 23rd of February to celebrate their founder's 162nd birthday.
Lord Robert Baden-Powell founded scouting in 1907 with the vision of creating a better world, according to the scouts' website. South Africa's scouts became multi-raced in 1977 and multi-gendered in 2000.
Scouts is a worldwide movement with the primary aim of contributing to the development of children and young adults to help them reach their full potential, according to the SCOUTS South Africa webpage. "Scouts strive to make a better generation of youth," said Dr. Brendan Hausberger, the chief scout of South Africa.
SCOUTS South Africa was one of the first scouting organizations in the world, said Dr. Hausberger. Scouts is registered in 165 countries, with many more applying for membership, he said. "These potential scout countries still need to meet the human rights regulations and requirements that are aligned with the ethos of scouting."
Scouts partake in many activities from camping to community service, said Joshua Kretzschmar, the Rover Chairperson of the Viking Scouts Crew, who joined scouts in 2007. "I am part of the Sea Scouts," the dedicated chairperson said, "and we learn to paddle a canoe, sail dinghies and even yachts across the oceans." Some of the scouts recently sky dived and jumped out of a plane five times, said Kretzschmar. "I never thought that I would do something like that."
National and international scouting events take place in this organization, said Kretzschmar. "The international Jamborees occur every four years where about 40 000 scouts from around the world meet and have fun for ten days."
Every year scouts all over the world commemorate Baden-Powell's legacy on the weekend closest to his birthday (the 22nd of February), said Dr. Hausberger. This event is called the BP Weekend or Thinking Day. This day is used to remind the scouts of the promise that they have made to serve their community, their God and themselves, according to an article on their webpage.
The promise includes the action of community service, the chief scout explained. It also includes building school libraries, refurbishing Early Childhood Development (ECD) centers, building stairways in public places, having adventures in parks, or even just picking up rubbish on the side of the road.
Recognition was given to the achievements of scouts and cubs (younger scouts) on Saturday, said Hausberger. "My Viking Crew received a silver badge of achievement," said Kretzschmar. Acknowledgements and awards were also given to non-scout members (volunteers), he said, to thank them for their help in piloting and testing a new scout program.
Scouts created the new program for five- and six- year-olds, who will be known as the meercats, said Hausberger, and who will also learn to commemorate the scouts' founder each year.
The comradery and fellowship of the Scout Movement are what makes scouting so memorable, said Kretzschmar. "As well as seeing how scouts change into young leaders and the good that scouting provides the world, and it's all thanks to Robert Baden-Powell.'
If one is interested in scouting, they must simply visit the SCOUTS South Africa website www.scouts.org.za/  which gives instructions on how to become a scout or volunteer. The website also shows where scouting grounds are located in all nine provinces.