Using entertainment to keep the youth off the streets

Scores of youth members turned out to Multipurpose Centre when RCJ Media hosted Ultimate Talent Showcase on 10 August 2019.
"Our goal is to keep children off the streets," said RCI Media co-founder Jonathan Ramoba. "I am very happy we managed to host our first event even though we did not get enough sponsors. Without adequate resources, we managed to bring children together and help them showcase their talent."
People from Cosmo City, Zandspruit, Diepsloot, Lion Park and other areas attended the talent showcase event.
A lot of talent in Cosmo City hides in the underground, said Ramoba. "We are not going to stop exposing the hidden talent. Next time we are going to do something very big. We also want to move to other communities beyond Cosmo City like Tembisa."
You always learn a lot from your mistakes, said another RCJ Media co-founder under, Ronald Thabo Kubisa.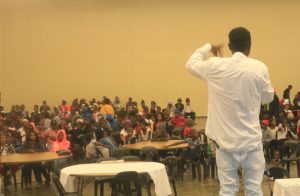 "I think such events are important in our communities," he said. "We are trying to keep the youth away from drugs and unplanned pregnancies. We see a lot of young people getting hopeless and ending up  resorting to drugs. We want to keep them busy through entertainment. At the same time, we expose their talent."
"If we were doing something irrelevant to the community," he added, "we wouldn't have gotten the permission to use the Multipurpose Centre. I would like to thank the Ward Councilor Mapula Mosito and her team, especially Sibongiseni, for believing in us and allowing us to use the community hall."
---